Curated by local historian, Christine Gowing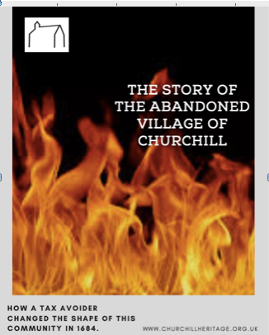 There is nothing new. The hearth tax imposed in 1662 by Charles II's government (always short of funds) put pressure on the villagers of Churchill, just as taxation vexes us now. But for one woman in 1684, the temptation to avoid the tax in order to light her fire to bake bread became just too strong.
At some stage she had made a funnel to join chimneys with that of her neighbour and on Wednesday 30th July 1684, she was found out when her house was set ablaze and fire spread throughout the village. It resulted in the loss of four Churchill lives and twenty dwellings. And the event led to the creation of the village we now know - with the rebuilding of stone houses at the top of the hill.
The exhibition revealed what happened to the serial tax evader (this was not her first offence) and how the local communities at the time reacted and supported the ravaged village of Churchill.